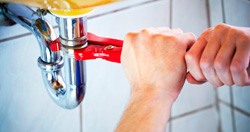 Edwards Plumbing and Heating knows that timeliness can save quite a bit of money when faced with a plumbing emergency in your home. Water damage from leaks or breaks can weaken the ceiling, flooring or foundation in your home. When you call us with an emergency it is important to us to get a technician to you as quickly as possible. It is important to diagnose the problem quickly in order to avoid damage and costly repairs to other parts of your home.
Water damage is serious, causing issues such as black mold, brown ring stains, peeling paint or crumbling dry wall. Therefore we do whatever it takes to keep you for having to deal with these dreaded effects of water damage. We are always ready to answer your call, 24 hours a day 7 days a week. After all, a plumbing emergency doesn't always happen during normal business hours. You have our absolute assurance we will arrive quickly and equipped to begin providing an immediate diagnosis and solution to your plumbing problem.
Common plumbing issues found in residential homes:
Drain and sewer clogs – partial and fully blocked
Need to repair or replace broken or leaky pipes
Need to repair or replace water heaters (gas, solar, electric, tankless, hybrids)
Installing and repairing fixtures, faucets, sinks, showerheads and bathtubs
Leak detection, sewer line and foundation inspections
Water purification and filtration system repair and installation
If you are in Montgomery Alabama and experiencing a plumbing emergency, give us a call today. Our team of HVAC and plumbing specialists are available around the clock so that we can be there when you need us. We do the job right every time so that you can enjoy your home or business the way that it should be enjoyed.