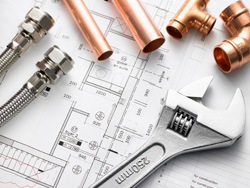 Edwards Plumbing and Heating has provided the construction plumbing and air conditioning for many of the better custom home builders and commercial and industrial contractors in the greater Montgomery area. We are known for doing the job right and our construction plumbing experience and expertise are top of the line. Because construction plumbing is hidden underground, in walls, in ceilings or in floors after the structure is complete, problems can often lie undetected. And, if there are problems, they usually don't show up till later and can be expensive to correct. That is why we strive to make sure the job is done right the first time.
Here are just a few of the advantages our commercial plumbing customers say made Edwards Plumbing and Heating their construction plumbing choice:
A long, proven track record in construction plumbing contractor
Broad experience with all types of construction
Responsibility, reliability and support
Competitive cost, greater value
Extensive equipment and parts
On time and on budget
Excellent references
We know you want a construction plumber with everything it takes to provide the very best value for your project. Therefore, we take pride in our work because we believe our relationships with our clients is one of our most valuable assets.